Grade 1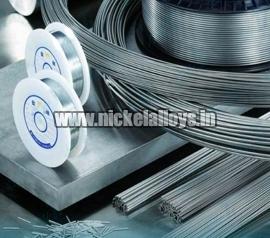 | | |
| --- | --- |
| Business Type | Manufacturer, Exporter, Supplier, Retailer, Wholesaler |
Preferred Buyer From
| | |
| --- | --- |
| Location | India, Kuwait, Oman, Saudi Arabia, Turkey |
Titanium Grade 1 is available in Bar, Billet, Extrusion, Plate, Sheet, Strip, Wire, Pipe, Tube, Rings and Forgings.

Titanium Grades 1-4 are unalloyed and generally known as CP (Commercially Pure). The tensile and yield strength of titanium generally increases with the grade number. Titanium is 30% stronger than Steel but nearly 50% lighter and although Aluminium is lighter, Titanium is stronger and has excellent strength retention. Due to Titanium's weight, strength and high corrosion resistance it is very popular in various manufacturing industries from aerospace, medical, shipping, military etc.

Specifications :
AMS 4940 - Sheet, strip, plate
MIL-T-9046J CP4 - Sheet, strip, plate
AMS-T-9046B CP4 - Sheet, strip, plate
ASTM B265 - Gr1 Sheet, plate
ASTM B337 - Gr1 Pipe (withdrawn)
ASTM B338 - Gr1 heat exchanger tube
ASTM B348 - Gr1 bar
ASTM B367 - Gr1 castings
ASTM B381 - Gr1 forgings
ASTM F67 - Gr1 Surgical Implant
ASTM F467 - Gr1 nuts
ASTM F468 - Gr1 bolts
UNS R50250
DTD 5013
AIR 9182 T35
Werkstoff WS3.7024 (aerospace)
Werkstoff WS3.7025
LN 9297
IMI 115
AICMA Ti-P01
DIN 17850 (chemistry)
DIN 17860 (sheet, plate)
DIN 17862 (bar)
DIN 17863 (wire)
DIN 17864 (forgings)
Read More...
Stock availability of contact Sales
Grade
US Specs
ASTM Specs
German Specs
French Specs
Grade 1
AMS-T-9046B CP4
AMS 4940 MIL-T-9046J CP4
ASTM B265 Gr1 Sheet/plate
ASTM B337 Gr1 pipe (withdrawn)
ASTM B338 Gr1 heat exchange tube
ASTM B348 Gr1 bar
ASTM B367 Gr1 castings
ASTM B381 Gr1 forgings
ASTM F67 Gr1 Surgical Implant
ASTM F467 Gr1 nuts
ASTM F468 Gr 1 bolts
Werkstoff 3.7024 CP Grade 1
Werkstoff 3.7025 CP Grade 1
T35- CP Grade 1
Technical Data Sheet
Chemical Composition Limits
Weight%
Ti
C
Fe
N
O
H
Titanium CP Grade 1
bal
0.08
0.02
0.03
0.15
0.015
Typical Mechanical Properties
Material
Tensile Strength min
Yield Strength
Elongation (%)
ksi
Mpa
ksi
MPa
Titanium CP Grade 1
Annealed condition
35
241
25-45
172-310
24
as per MIL-T-9046J, AMS-T-9046, AMS 4940